2023.01.12 | Storm Updates from Fiscalini Ranch Preserve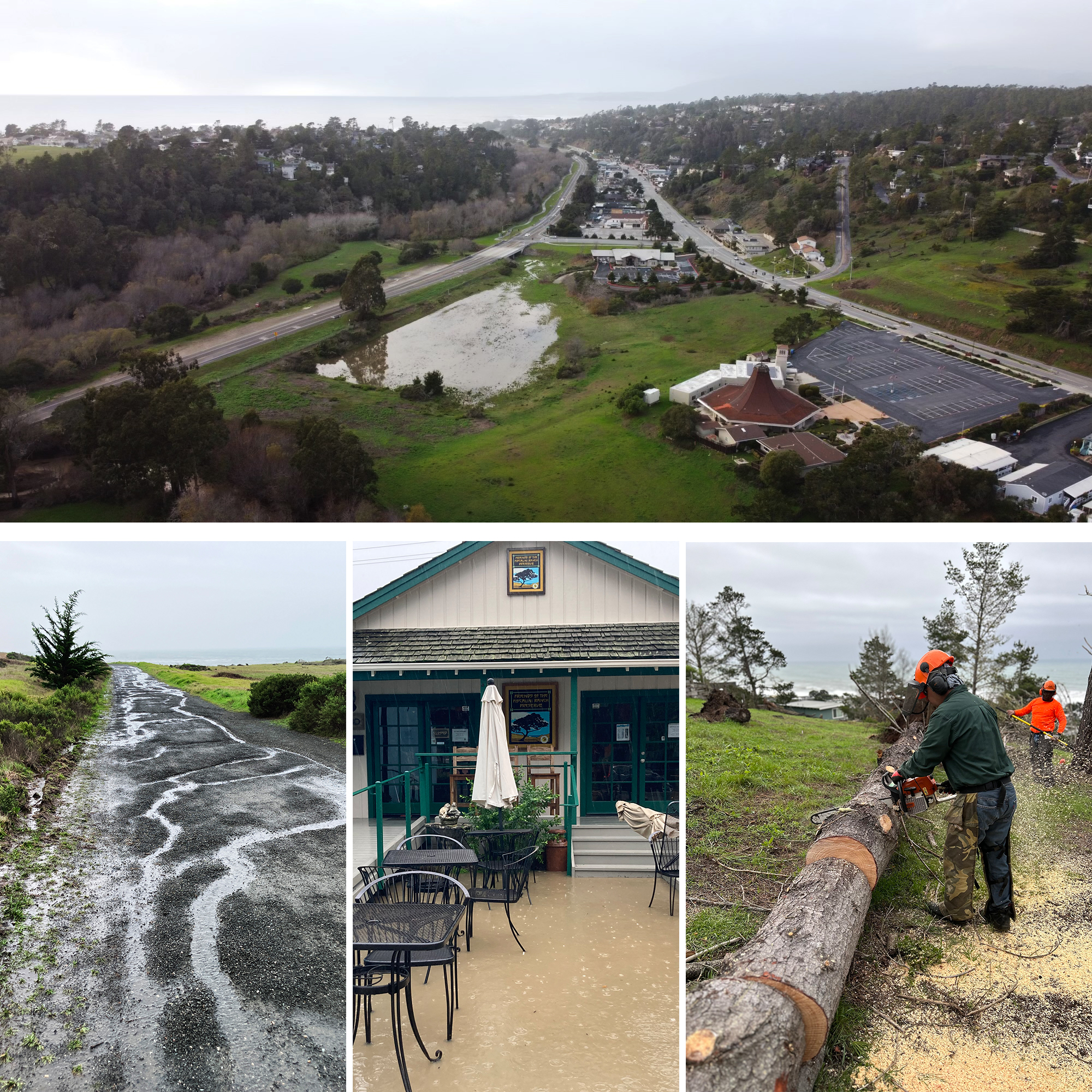 January storms continue to affect the entire region but the impacts have not been too serious on Fiscalini Ranch Preserve. While some trails remain closed due to flooding, most are open.
Closed until further notice are the Dolphin, Santa Rosa Creek, and East Ranch Trails. Reopening will be announced on social media by Cambria Community Services District (CCSD) and Friends of the Fiscalini Ranch Preserve (FFRP). This weekend's mushroom walk on the Ranch has been cancelled due to expected rain.
Only about 50 trees–compared to 200 trees after the 2021 storms–have fallen or become hazardous on the Ranch thus far. Trees are considered hazardous when they threaten to fall on trails or sites of special interest, such as the monarch grove. CCSD Facilities and Resources staff led by Carlos Mendoza quickly took care of these dangers. They removed downed trees on the Victoria Way, Ramsey, Tipton, and several other forest trails, and at the monarch grove.
The Marine Terrace Trail, which serves a dual purpose as a footpath and an emergency access road between Park Hill and Marine Terrace, was opened by the Cambria Fire Department when Santa Rosa Creek threatened to overtop the Windsor Boulevard bridge on Monday. It operated as a one-way emergency exit from Park Hill for most of the day until the bridge was reopened. Due to heavy rain, the Marine Terrace Trail is now deeply rutted. Bear that in mind if this access is opened again before it can be regraded.
The area on the East Ranch between Main Street, Cambria Drive, and Highway 1 served its purpose as overflow for Santa Rosa Creek. The temporary "Fiscalini Lake" attracted many snowy egrets, as well as providing protection for the West Village from worse flooding. Also on the East Ranch, the foot bridge to Highway 1 miraculously survived the flood, as it was heavily reinforced by CCSD after the last time it was washed away.
One dramatic impact of the storms was a small landslide on the East Ranch. Mud and trees slid down the slope from Lodge Hill East. The slide is entirely on the Ranch and does not appear to threaten any of the properties on the top of the hill.
FFRP also was fortunate that the creek did not exceed its banks at CCSD's Facilities and Resources yard. Last summer, FFRP constructed a nursery there to grow plants for the Preserve. While the risk from flooding was known, FFRP is relieved that the nursery survived this storm intact. As a precaution, however, some plants and tools had to be moved to a higher spot. Flooding on Main Street also missed the FFRP office, a good outcome for office staff and volunteers.
Article first published in https://cambriaca.org/