With Earth Day Approaching - Let's Explore the Forest and Look for Its Treasures!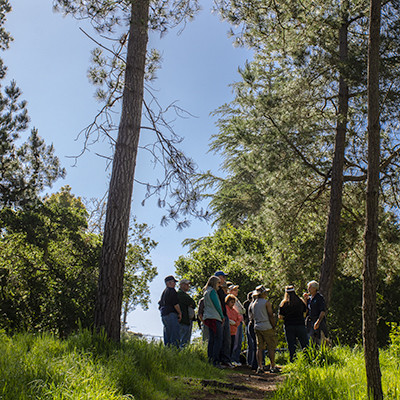 Location: Registrants will be informed of location
Docent: Brian Morgan
Take a thoughtful stroll along the forest trails with a knowledgeable guide while you enjoy early spring wildflowers, the chattering grey squirrels, inquisitive looks from black-tailed deer, and spying an occasional Monarch butterfly. Learn how you can improve and protect the natural world that surrounds you. What can you do to contribute to our small slice of the Planet Earth?
Note: Earth Day is April 22nd. Come celebrate with us at a Pop-Up event at the Creekside Reserve in Cambria (co-sponsored with Greenspace).
The walk is approximately 2 1/2 miles along trails with very little elevation gain. The stroll usually takes 2 1/2 hours to complete. Wear closed toe shoes and long pants to protect from trip points and poison oak. There are no toilet facilities on the Ranch-come prepared. The walk is open to all by reservation only. Children are very welcome, with adult supervision. No dogs please. Rain cancels the walk.
« Back to Docent Walks