Mushrooms and the Forest . . . a Partnership!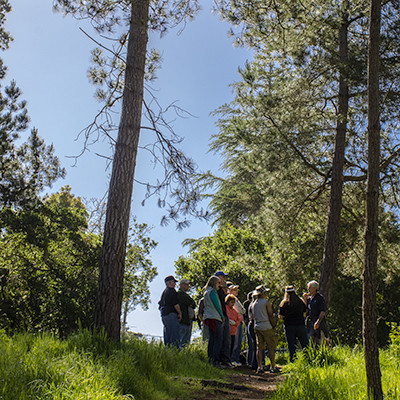 Location: Registrants will be informed of location
Docent: Brian Morgan
Note: this walk is dependent on the amount of rainfall we get before February 18th. It will be a forest walk, regardless, but the focus will not be on mushrooms if we don't get more rain.
Learn how to let the forest be your guide to a healthier and more spiritual life as you wonder at the partnership between the organisms that give us our beautiful mushroom population and the majesty of our Monterey Pine and Coastal Oak forest. Become more curious about the beauty of nature as you wander the Fiscalini Ranch tree covered trails. Notice the chatter of grey squirrels, the screech of red tail hawks, and the occasional hoot of a great horned owl. Become entranced by the teetering flight of a turkey vulture. What is that moving through the trees? Oh...a mother black tail deer and her two young ones. Is that an aerial battle between a masked acorn woodpecker and a blue scrub jay? Why would they appear to fight? Uncover these mysteries and much more as you slowly trek along beautiful Ranch trails with your nature guide.
Reminder: No foraging is allowed on Fiscalini Ranch Preserve.
The walk is approximately 2 1/2 miles along trails with very little elevation gain. The stroll usually takes 2 1/2 hours to complete. Wear closed toe shoes and long pants to protect from trip points and poison oak. There are no toilet facilities on the Ranch-come prepared. The walk is open to all by reservation only. Children are very welcome, with adult supervision. No dogs please. Rain cancels the walk.
« Back to Docent Walks